SOUNDHOME
Ultrasound therapy equipment for home and professional use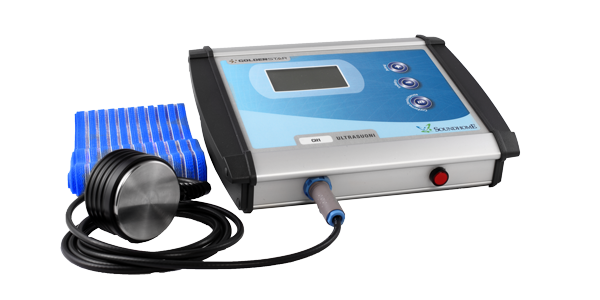 The Soundhome device stands out for its high performance and ease of use, offering preset or customised operating modes.
The "low profile" output head (just 3.5 cm (1.38 inches) thick) is easy to attach to the area of the body concerned using the comfortable elasticated cotton strap provided. The head is also waterproof, meaning that underwater treatments can be administered in complete safety.
A handpiece with a 35-mm (1.38 inches) output surface diameter is available for more localised applications.
Main therapeutic indications
Periostitis, tendinitis, arthrosis, muscle contractures, scars, organised oedema, bursitis, sciatica, post-traumatic oedema, neuralgia.
Please consult a doctor for diagnosis and therapeutic advice.
General Features
Dimensions (wxhxd): 25x7x15 cm (9.84×2.76×5.91 inches)
Device weight: 1 Kg (2.2 lb)
Supply voltage: 100-240 V 50-60 Hz
Maximum power during operation: 50 W
Safety class: II b
Protection class: 2 Bf
Fuses: 2.5 A thermal, recoverable automatically
Cooling: forced air dual circuit
Technical Features

1 channel
Handpiece with 3W transducer
Frequency 1 MHz
Operating mode: continuous, frequency-modulated and pulsed output
Programs: decalcification, delayed ossification, chronic pain, acute pain, muscle pain, joint pain
Low profile head for fixed applications
Diameter of output surface: 6 cm (2.36 inches)
Watertight head for applications in water
Settings constantly on display
Accessories
1 Ultrasound handpiece, 1MHz, diam. 54 mm (2.13 inches), watertight, 3W
Blue elastic strap, h 10 cm (3.94 inches), L 100 cm (39.37 inches)
230 Vac/24 Vdc power pack
Device ignition key
Power cable with plug/socket, 90°, 1.8 m (5.9 ft)
Shoulder carry bag (OPTIONAL)