MAGNETHOME
Home magnetic therapy equipment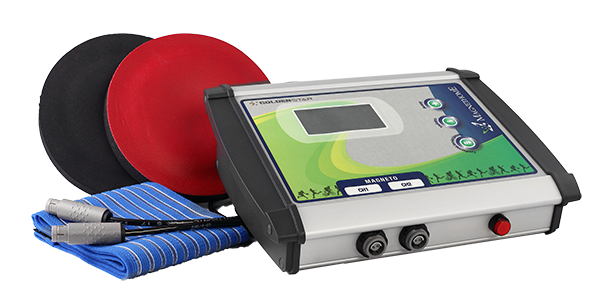 MagnetHome has been developed as a result of experience in the field of professional treatment.
It offers the typical technical characteristics of professional equipment used in the clinic, but in a version suitable for use at home.
Practical preset programs catalogued by disorder simplify the application selection process for the best therapeutic result.
The applicators are covered in a soft material that is pleasant to the touch, for comfortable treatment even in areas of the body that are usually uncomfortable to treat.
The possibility to program the device for up to a maximum of 6 hours makes it possible to comply with specific medical prescriptions for prolonged use (for example, overnight applications).
Customised applicators are also available (circle, cervical plate, hip plate).
Main therapeutic indications:
joint disorders, delayed union, pseudoarthrosis, spinal arthritis, inflammatory and degenerative joint diseases, osteoporosis, bedsores, oedema.
Please consult a doctor for diagnosis and therapeutic advice.
General Features
Dimensions (wxhxd): 25x7x15 cm (9.84×2.76×5.91 inches)
Device weight: 1 Kg (2.2 lb)
Supply voltage: 100-240 V 50-60 Hz
Maximum power during operation: 50 W
Safety class: II b
Protection class: 2 Bf
Fuses: 2.5 A thermal, recoverable automatically
Cooling: forced air dual circuit
Technical Features
2 independent channels
100 Gauss magnet plate
Fixed frequency or automatic modulation between 5 and 100 Hz
Neoprene-coated applicators, diam. 15 cm (5.91 inches)
Preset or customisable operating programs
Customisable: option to administer up to three phases with automatic modulation, each of which can be programmed to have its own frequency and duration up to a maximum of 6 hours
Accessories
Magnet solenoids, diameter 15 cm (5.91 inches) /100
Blue elastic strap h 10 cm (3.94 inches) L 100 cm (39.37 inches)
230 Vac/24 Vdc power pack
Device ignition key
1 power cable with plug/socket, 90°, 1,80 m (5,9 ft)
Shoulder carry bag (OPTIONAL)