LASERPRO 2W
Professional laser therapy equipment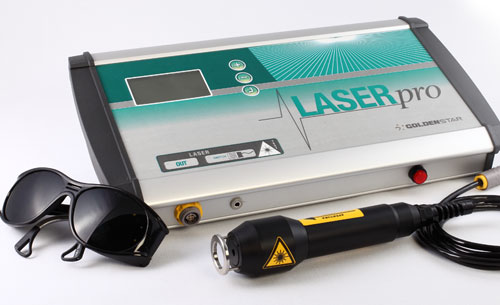 LaserPro
is the new laser therapy system from Golden Star that offers specific protocols for the most widely used applications, as well as the possibility to set the operating parameters as required, producing a customised and professional result. It stands out for its compact size, ease of use and versatility.
Key features of LaserPro:
Golden Star Elettromedicali produce apparecchiatura per laserterapia professionale LaserPro 2WThe laser source of LaserPro (class IV) is a next-generation solid-state laser able to emit a continuous output of up to 2 Watts. Unlike most devices of this kind on the market, it is housed directly in the handpiece.
This particular configuration offers countless benefits, which include:
Avoiding the use of expensive optical fibres to transport the laser light from inside the device to the patient, leading to financial savings in the event of repairs (in fact, as well as being very delicate, optical fibres cannot be repaired)
No energy loss
Lighter weight and more practical handpiece, connected to the appliance by a normal shielded cable. The cable can also be wound up, reducing the footprint without the risk of breakages and making this handpiece suitable for mobile devices.
TECHNICAL FEATURES
Dimensions (wxhxd): 34x7x15cm
Device weight: 2 Kg
Supply voltage: 100-240 V 50-60 Hz
Maximum power during operation: 50 W
Safety class: II b
Protection class: 2 Bf
Fuses: 2.5 A thermal, recoverable automatically
Cooling: forced air dual circuit
ACCESSORIES
High power laser handpiece
Foot switch for laser therapy
Eagle protective glasses by laser radiation
230 Vac/24 Vdc power pack
1 Device ignition key
1 Power cable with plug/socket, 90°, 1.8 m (5.9 ft)
LASERTHERAPY
1,5 W continuous power output
Laser handpiece with variable spot from 0.25 cm2 (0.10 inches2) (square) to 1 cm2 (0.39 inches2) (rectangular)
810 nm wavelength
Continuous, frequency-modulated and pulsed output
Customised or preset operating program
Laser diode housed directly in the tip (no optical fibres required)
Output activated by footswitch
Laser detector with power output display
Output status displayed via the multicoloured LED
Settings constantly on display
Customised: continuous – 100 Hz – 50 Hz – 20 Hz -10 Hz – 5 Hz – 1 Hz – pulse trains with output regulation and pause from 0.3 s to 3 s
Programs: joint pain – muscular pain – laserpuncture – dermatology – deep biostimulation – superficial biostimulation