THE FUTURE OF TECARTHERAPY IS NOW WITH FISIOWARM®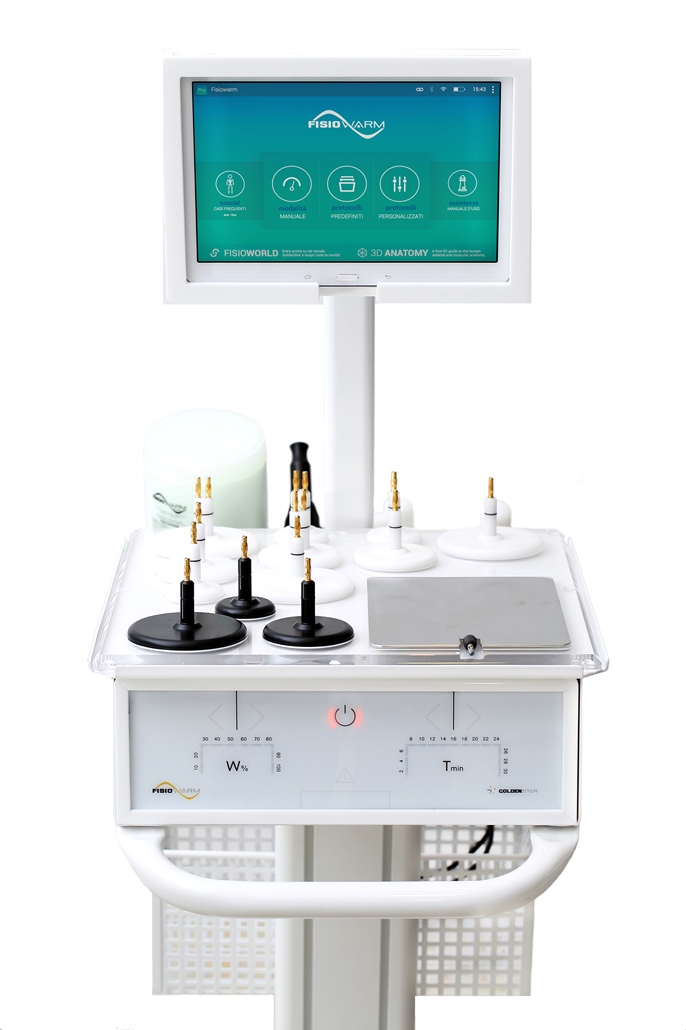 Fisiowarm® is a technological revolution in the current market of Tecartherapy, flagship of Golden Star production.
The Fisiowarm® series differs from earlier especially for the technological approach that takes into consideration the needs of the therapist as well as those of the patient.
Fisiowarm® has, in fact, a tablet with apps on the Android platform, easy to use and functional as well as intuitive. Its many features meet the different needs, using all the advantages that a technological tool like this can offer: free wi-fi and bluetooth, new releases, new apps, interactivity.
The new equipment Fisiowarm® have an elegant and refined design, which is also innovative; control and assembly of all the internal components have been entrusted to the care of Italian craftsmanship: the result is a surprisingly effective, lightweight, compact in size and certain reliability, as well as looking great. Handpieces, connecting cables and electrodes are also assembled and individually tested.
The equipment can be handled in parallel by two control systems: a remote – the tablet – and one placed on the front of the machine body, which, thanks to a resistive panel with LED backlight and soft-touch controls, allows to supervise and manage all essential job functions effectively. Both systems are designed so as to guarantee the satisfaction of all the needs of the professional during treatment. The machine communication – tablet is via Bluetooth.
The two devices interact in a constant and continuous basis, by transferring commands and organizing feedback data.
MORE INFO: WWW.FISIOWARM.COM