ELETTRHOME
Home electrotherapy equipment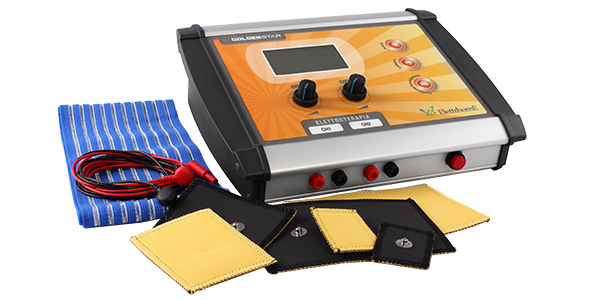 ElettrHome is a useful tool for physical care and wellbeing that boasts a number of professional features.
Two output channels with independent power regulation make it possible to treat different areas of the body at the same time.
Users can set the output parameters manually so as to adapt the therapy to individual therapeutic requirements, or use the preset programs for a quicker and more convenient selection.
The application settings are displayed at all times.
Adhesive electrodes can be used for even more straightforward application, while traditional electrodes in conductive silicone with a sponge pad are also available (optional accessories).Main therapeutic indications
Epicondylitis, muscle toning, neck pain, muscle strengthening, bursitis, muscle heating, lower back pain, lower back pain of nondisc origin, cervicobrachial neuralgia, drug carrier, tendinitis, rheumatoid arthritis.Please consult a doctor for diagnosis and therapeutic advice.
GENERAL FEATURES
Dimensions (wxhxd): 25x7x15 cm (9.84×2.76×5.91 inches)
Device weight: 1 Kg (2.2 lb)
Supply voltage: 100-240 V 50-60 Hz
Maximum power during operation: 50 W
Safety class: II b
Protection class: 2 Bf
Fuses: 2.5 A thermal, recoverable automatically
Cooling: forced air dual circuit
TECHNICAL FEATURES
2 independent channels
Separate dose regulation
Preset or customisable operating programs
Selected parameters constantly shown on the display
Steady output voltage
Waveforms: ionodynamic, interrupted ionodynamic, single pulse, pulse train, wave train, TENS, TENS burst, acupuncture, alternating biphasic
Programs: carrier, pain relief, deep pain relief, severe denervation, moderate denervation, mild denervation, toning, power, capillarisation, defatiguing, heating
ACCESSORIES:
Electrotherapy cables with red/black clips
Canvas/buckskin electrodes
Elastic strap 100 cm (39.37 inches)
230 Vac/24 Vdc power pack
Device ignition key
1 Power cable with plug/socket, 90°, 1.8 m (5.9 ft)
Shoulder carry bag (OPTIONAL)